MISSION
Advocates 4 Animals (A4A) Pet Pantry is a 100% volunteer organization focused on keeping animals with their families during financially difficult times by providing pet food and spay-neuter assistance.
In addition to the pet food pantry program, our adoption program cares for pregnant/nursing canine moms and their puppies until they are adopted. All moms and babies in the adoption program are fully vetted, spayed orneutered and micro-chipped.
A4A is an official non-profit, 501(c)3 organization and all your donations are tax deductible.
Pet Food Distribution
10:00 AM to Noon

March 31
April 28
May 19
June 23
Bring your furry friend to our 3rd Annual Doggie Easter Egg Hunt on Sunday March 25 at 3:00 pm.
Tickets can be purchased in advance, just go to the Doggie Egg Hunt page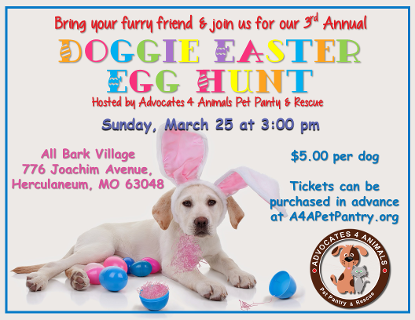 We Need Volunteers
Volunteers are the lifeline to our organization.
There are no paid employees, so we rely on people
like you to do the day-to-day activities
For more information on volunteering, go to our
Volunteer Opportunities page
or call us at
636-209-5019
Tickets are now on sale for our 3rd annual Adult Easter Egg Hunt. This event has sold out every year so get your tickets while they last.
Purchase tickets on our Adult Egg Hunt page.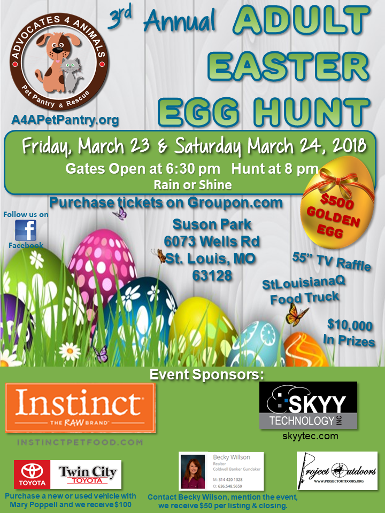 Want to help?
Donate pet food or pet accessories at our
distribution facility at:
1316 Commercial Blvd.
Herculaneum, Missouri 63048
Contact info@A4Apetpantry.org or
636-209-5019 for other drop-off locations
We are looking for drop-off locations for donations. If you know of a business that would be interested in helping, please contact us.
Monetary Donations can be made online, just click on the Donate button or mail a check to:
Advocates 4 Animals
P.O. Box 2361
Hillsboro, MO 63050
Monetary donations are
TAX-DEDUCTIBLE!
Do you have old shoes you need to get rid of and wondering what to do with them? You can donate them to our pantry and we will use them to raise funds to purchase pet food. Our drop-off locations are listed below.